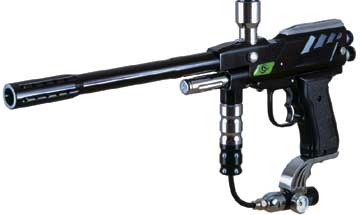 Welcome To My Home Page
I decided to build a web-page because the sport paintball has given me so much I figured I should give back to it by incouraging people to start.


FOR SALE:
M3 patriot Sniper
14 inch warped Sportz barrel
delrin high densty bolt
20 oz. C02 tank
VL 200
ONLY USED 4 TIMES

It also comes with all the tools, stock barrel and bolt, manual CD, orignal box, all the instructions, 2 aluminum triggers and 1 plastic one. Perfect condition. It was oiled and cleaned meticiously after every use. I am selling it to get a mag.
180 +shipping


Email me for more information madgoat333@msn.com

My Tips For Choosing the Right Marker/Gun
My first suggestion would be make sure you really like the sport before you invest yours or your parents money in it. I would also like to point out if you just found out about paintball and you want to try it then instead of going to walmart or k-mart and buying a cheap Brass Eagle marker you should go to a local field and rent one instead. After that decide if you want a pump or a semi. I would suggest a Semi because you will probably get tired of everyone being able to fire a lot faster than you. After that I would suggest you throw any ideas of you getting an angel or autococker for your first marker out. Simply because these are very hard to care for properly. After that go to one of or all of my links above and read about the marker you want to get. For a first marker i would suggest Piranha's, Spyders, and M3's. All of those markers are easy to care for and very easy to upgrade. If you decide not to get one of those brands of markers make sure the brand you do decide to get is upgradeable. If it is not upgradeable instead of being able to put 100 dollars into your marker to bring it up to your level of experience you will probably have to buy a whole new marker. Before you even look at marker you should look at masks first, it is the most important thing you will ever buy for paintball. I would recommend either a Jt Nvader or any type of V-Force mask for someones first. Take into consideration all of the above words, especially the ones about masks, then go out and get what you really want.
My Reviews
M3 Patriot Sniper

This marker is very good for the price. The stock barrel is very accurate kind of loud but thats not a problem the accuracy makes up for that. The regualtor works really well for C02, I started the day at 255 ended 7 hours later at 246. I would recommend this to anyone.


Warped Sportz Barrel

This was the best barrel I have used in the Price range. If you are straped for cash or just want a good barrel for under 60 bucks this is the one for you.


PMI Premium Paint

The paint would be decent if it weren't for the curiously small bore size. I would suggest Pro-Ball or Diablo Midnight befroe this.